Line 3:
Line 3:
 
 
 

It has a total of three floors. The 1st floor consists of the kitchen, living room, Ran's bedroom, and the girls' bathroom. The 2nd floor consists of the boys bedrooms and bathroom. The 3rd floor consists of the girls bedrooms.

 

It has a total of three floors. The 1st floor consists of the kitchen, living room, Ran's bedroom, and the girls' bathroom. The 2nd floor consists of the boys bedrooms and bathroom. The 3rd floor consists of the girls bedrooms.

 
+
 
+

There are two rules for people staying in the boarding house:

 
+

# Entering the room of the opposite sex is forbidden, unless it's an emergency. This rule doesn't apply to [[Yamaguchi Yuuto]] since he was given permission to enter any of the rooms so that he could be a tutor.

 
+

# No dating.

 
 
 

== Residents ==

 

== Residents ==
---
Revision as of 23:17, 1 August 2018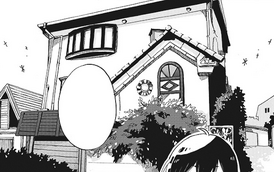 Boarding House is a location in Short Cake Cake.
It has a total of three floors. The 1st floor consists of the kitchen, living room, Ran's bedroom, and the girls' bathroom. The 2nd floor consists of the boys bedrooms and bathroom. The 3rd floor consists of the girls bedrooms.
There are two rules for people staying in the boarding house:
Entering the room of the opposite sex is forbidden, unless it's an emergency. This rule doesn't apply to Yamaguchi Yuuto since he was given permission to enter any of the rooms so that he could be a tutor.
No dating.
Residents