Riku Mizuhara (水原理久; Mizuhara Riku) is one of the main characters of Short Cake Cake, Riku is a commerce student (1st year) from Nekochiya. He starts liking Ten in the early chapters.
Appearance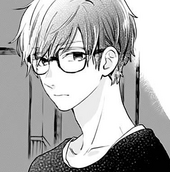 Riku has slightly long hair. To add on, a long strand of hair which covers a bit of his face. Riku also has green eyes, and is usually seen having a small grin plastered on his face.
He has poor eyesight and is typically seen wearing contacts but can be seen wearing his glasses from time to time when he's at the dormitory.
Personality
Riku is the opposite of Chiaki as he is more warm and outgoing. He has a tendency to tell girls that they're cute.
Trivia
His room number in the dormitory is 3.
His favorite food is seafood.
He's fine with foods that are slightly spicy.
He likes his coffee black, but he also likes sweets.
His favorite color is navy blue.
His favorite TV shows are mystery programs.
His hobby is "moving his body."
He's fine even if he doesn't get a lot of sleep.
Riku said that a cat would often appear in his dreams since in the past he always wanted a cat but couldn't raise one.
Gallery